Cycling plays an important role in Jena, both in everyday life and in leisure time. The Saale floodplain with its low-slope paths provides the backbone of Jena's cycling network. Many of these paths have been renewed, extended or completely newly created in recent years. In 2020, the route across the Landfeste was expanded and significantly improved in quality as an important main route. A traffic light is now available for a safe crossing of Karl-Liebknecht-Strasse. The park has been significantly upgraded in terms of design and offers a high quality of stay.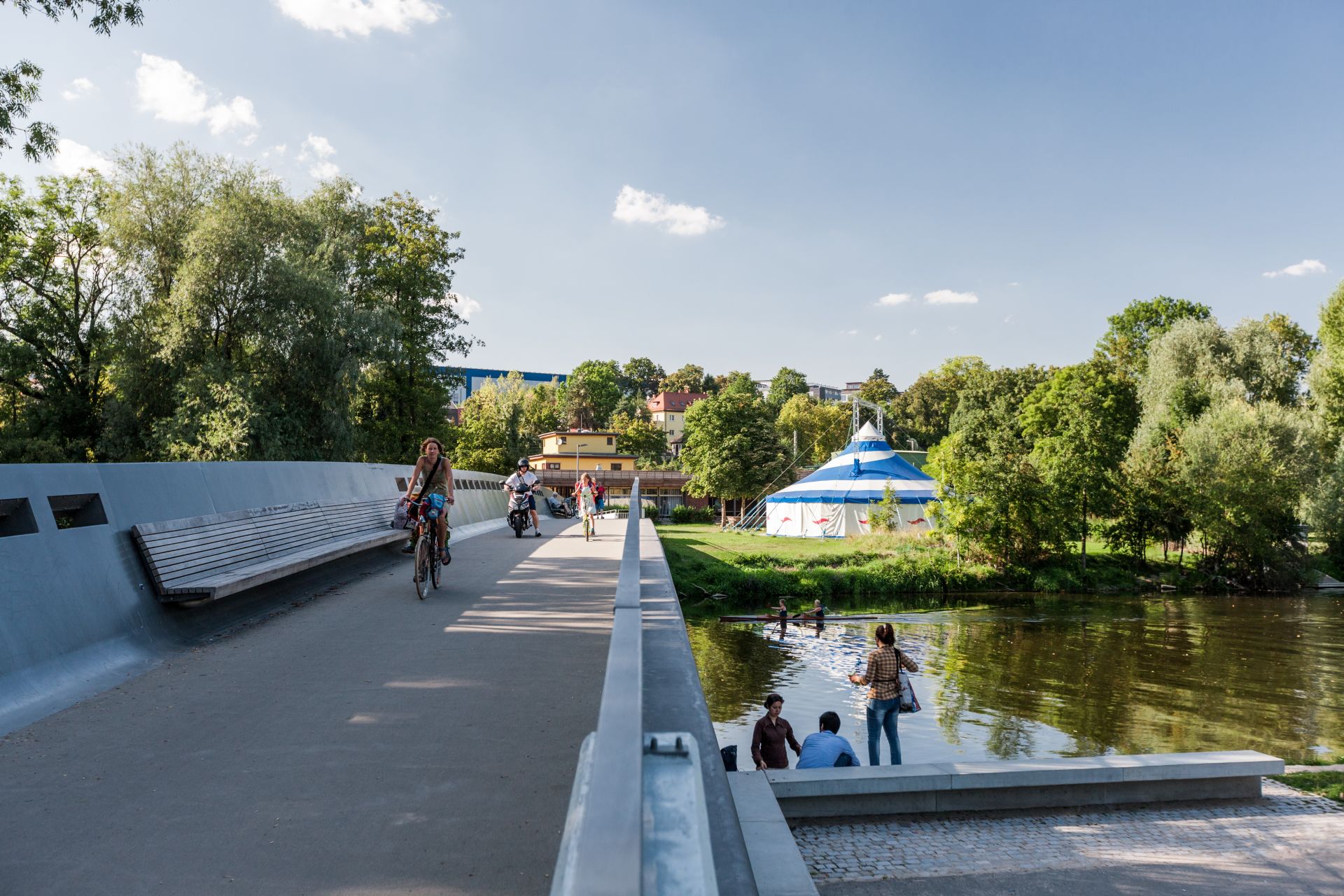 The share of cycling in the modal split in Jena is approx. 15 % (survey SrV 2018). This is a nationwide survey on the mobility behaviour of the resident population in a 5-year cycle, in which the city of Jena has already participated for over 30 years.
The city of Jena has set itself the goal of continuously increasing the share of cycling. The ambitious goals can only be achieved if the cycling concept adopted by the city council in January 2013 is implemented. The implementation status of the cycling concept was documented in 2017. In January 2018, a prioritised list of measures was drawn up under the leadership of the Advisory Council for Cycling.
The city of Jena intends to update the cycling concept from January 2022, if possible with funding from the Free State of Thuringia.
Erarbeitung Radverkehrsplan Jena 2035+
Die Bearbeitung des "Radverkehrsplanes Jena 2035+" hat am 01.02. 2022 begonnen. Beauftragtes Büro ist das Büro RV-K aus Frankfurt am Main mit einer Niederlassung in Jena.
Die Bearbeitung des Radverkehrsplanes erfolgt unter unmittelbarer Mitwirkung des Beirates Radverkehr  und der Initiative Radentscheid Jena.
Ebenfalls unmittelbar einbezogen wird der Beauftragte für Menschen mit Behinderungen (und der Beirat). Eine Beteiligung weiterer wichtiger Akteure und weiterer Beiräte erfolgt regelmäßig und anlassbezogen.
Weitere Informationen zum aktuellen Stand der Bearbeitung finden Sie unter folgendem Link.
Pro & Contra Radfahren
Pro cycling
These positive arguments for cycling should be known to all citizens by now:
beneficial to health (prevention of heart attacks, high blood pressure, cholesterol, diabetes, obesity)
environmentally friendly
socially acceptable
improvement of the quality of life in cities (no noise and exhaust pollution)
low land consumption (parking, path widths)
Contra cycling - does it exist?
Do you already know the 7 "worst" excuses?
sweaty clothes - In which company is there no possibility to change clothes?
No transport capacity - The practical bicycle bags are surely sufficient for small purchases, and every two weeks you have to go shopping by car.
No bicycle - Bicycles are available for the price of a large annual car inspection.
Health problems - It's the eternal vicious circle: If you're in pain, it's better not to "torture" yourself on the bike. But if you hardly move at all, the pain gets even worse - there's only one thing that helps: overcoming your inner bastard.
No time - For sure, everything is relative. On the one hand, it doesn't make a difference whether I travel half an hour by car or 30 minutes by bike. On the other hand, you combine this way with a sporty activity and possibly save yourself the gym and therefore also time.
Bad weather - rain gear comes in all sizes, shapes and price ranges.
"I think I'm too unathletic..." - Everyone looks athletic on a bike.
Touristische Radwege
Saaleradweg
The 427 km long Saaleradweg (part of D-Route 11) follows the river Saale from its source in Zell (Bavaria) to its mouth near Barby (Saxony-Anhalt) on mostly natural paths, of course with continuous signposting. In the city area of Jena they follow the Saaleaue on well developed, almost continuously asphalted ways. Besides the impressive landscape, the numerous castles and palaces are the most beautiful and unique features of the Saale Cycle Path.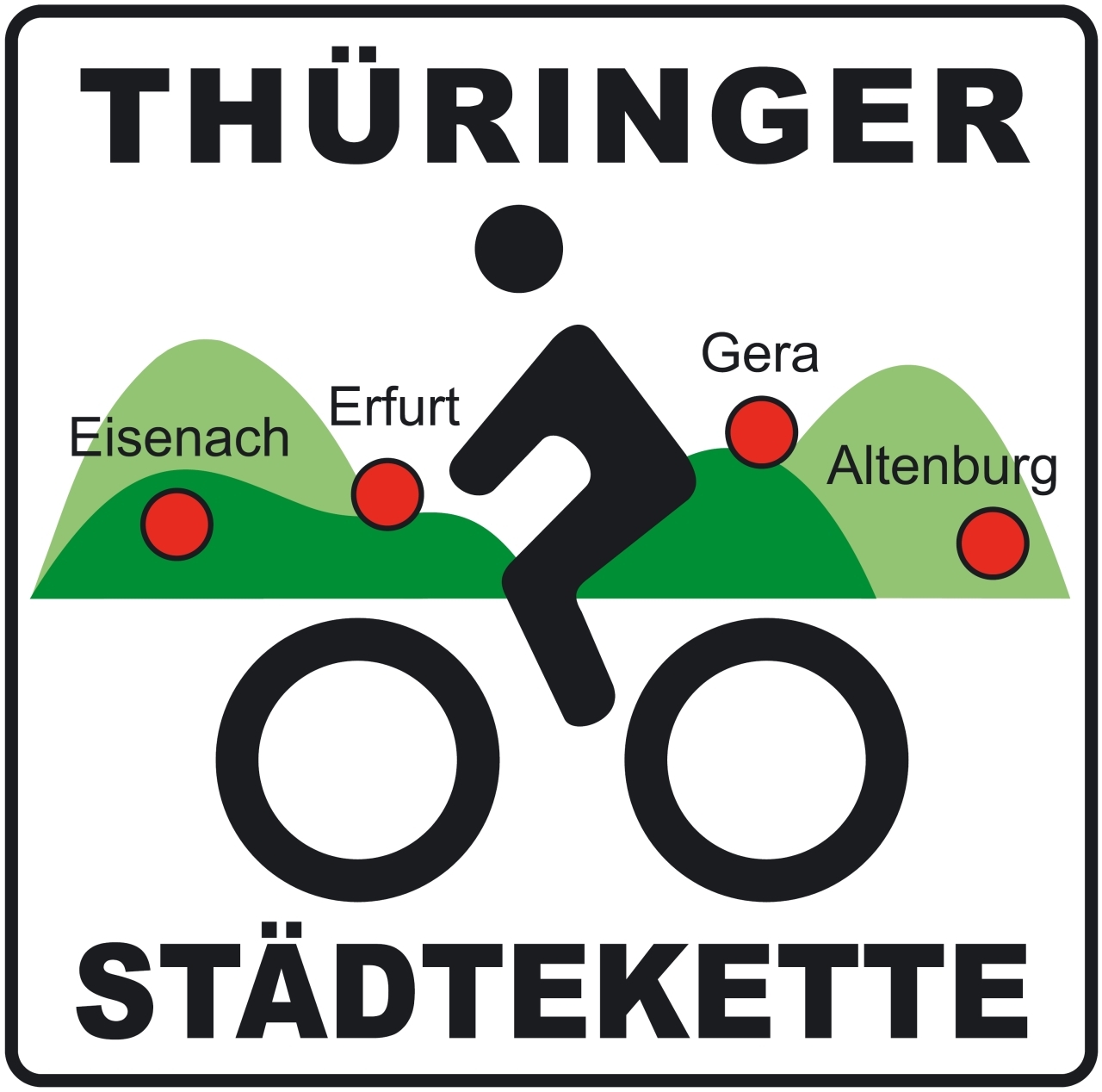 Thuringian city chain
The long-distance cycle route Thüringer Städtekette (TSK) runs in a west-east or east-west direction and is part of the Deutschlandroute D4. The TSK runs through the Thuringian Basin and connects the culturally very interesting cities of Eisenach, Gotha, Erfurt, Weimar, Jena, Gera and Altenburg. The Thuringian Town Chain is signposted throughout. In some places the condition of the paths does not yet meet the requirements of a supra-regional cycle route. The individual municipalities strive to make annual improvements.
Church cycle path Jena - Thalbürgel
The church cycle path connects two important Thuringian churches, the Jena city church St. Michael and the monastery church Thalbürgel. Along the way, which follows an old long-distance trade route, are the 'Schillerkirche' in Wenigenjena and very beautiful old village churches in Jenaprießnitz, Groß- and Kleinlöbichau. The path starts in the city centre of Jena, runs in an easterly direction with a length of 13.3 km and is asphalted almost throughout. A circular route back to Jena is possible via the Mühlenradweg.