Jena has a well-developed local transport system of tram lines and city buses. All lines of the urban public transport are bundled at the central stops Löbdergraben / Teichgraben.
The bus station at Paradiesbahnhof, which was renovated in 2009, is the starting point and destination for almost all regional and long-distance bus lines entering or leaving the city. During off-peak hours, the system is supplemented by shared taxis (AST).
Union tariff
Jena is part of the VMT (Verbundtarif Mittelthüringen). This essentially extends from Gera via Jena / Weimar / Erfurt to Gotha. The district of Weimarer Land to Apolda is also included.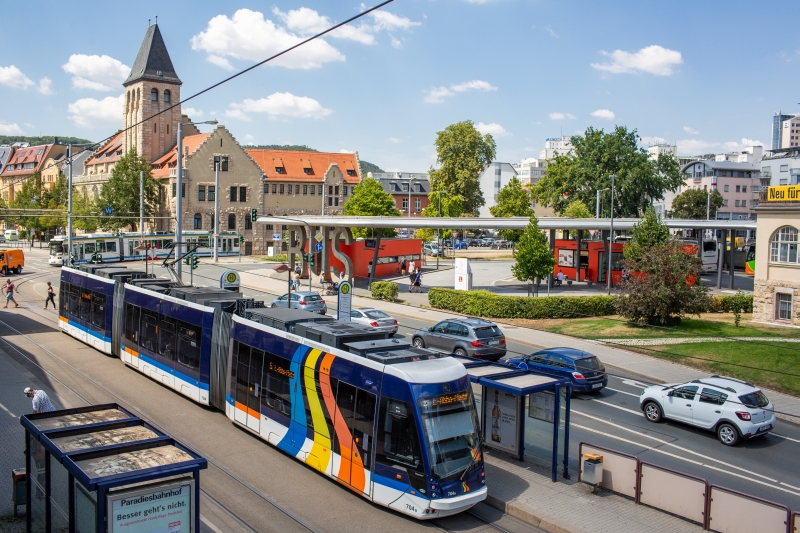 Busbahnhof und Haltestelle Paradiesbahnhof, © Stadt Jena, Foto: Tobias Stepper
Each VMT ticket is valid for one or more tariff zones within which all integrated transport companies can be used. This also applies to local rail transport services (e.g. Deutsche Bahn, Erfurt Railway). The entire city area of Jena forms a tariff zone (No. 30).
Local transport plan
The local transport plan is to be drawn up by the responsible regional authorities (responsible bodies) and represents the medium-term development of the local transport system on the basis of the transport policy objective.
The current local transport plan was adopted by the city council in 2014 and is valid until a new local transport plan is adopted. The local transport plan can be downloaded under Downloads